Un-Powered Camping Grounds Grampians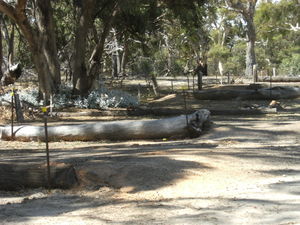 Caravans, campervans, motorhomes and camper trailers enable real holiday freedom while still providing the modern conveniences of home. An enjoyable, affordable and relaxed way to travel, holidaying with a caravan is an ideal way to experience The Grampians and Wartook Valley.
Wood BBQs, Hot Showers and Flush Toilets are provided for both Powered and Unpowered Camp sites. Wood can be purchased by the bag for your use, or you can bring your own.
Sites
Off Peak
Peak Season
Day
Week
Day
Week
Powered Sites
$26
$150
$30
$180
Unpowered Sites
$24
$140
$28
$170
Please note - tarrifs shown are for two persons. Tarrifs include GST.
* Extras: Add $10 per adult and $6 per child (under 16 years) for everynight of accommodation.
REMEMBER:
Deposit Policy: All bookings must be confirmed with credit card details. If you do not have a credit card a deposit in the form of a cheque or money order must be received to hold booking within 7 days.
Booking deposit of $50.00 required. Balance to be paid on arrival.
Cancellation within 14 days of arrival will incur the loss of deposit. Arrival time - between 2PM and 6PM or by arrangement.
Minimum bookings for Easter, long weekends, school holidays.
A surcharge applies to all "credit" transactions.
All prices are subject to change without notification.